PORK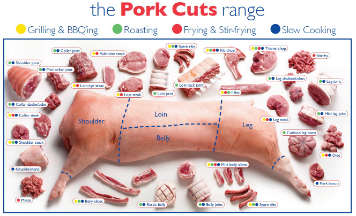 Marbec Meats source quality standard BPEX Pork from Essex, Sussex, Suffolk.
Our pork is fully traceable Red Tractor meat which means that you can have confidence in the rearing standards and quality of pork being provided.
Orchard free range pigs are born and reared outdoors with freedom to roam, wallow and feed at will. The farms adhere to high welfare standards and the pigs are reared on a carefully balanced diet including as much as 20% apple pulp from a local cider factory. The apple pulp is added to the cereal and protein to enhance the flavour of the succulent pork.
We offer all cuts and Suckling pigs throughout the year.
Spanish Iberico Pork is also available.